Columbia City High School
Alumni Association
600 N. Whitley St.
Columbia City, Indiana 46725


(260) 244-6136
---
Welcome!
Welcome to the Columbia City High School Alumni Association web site. This site is for all alumni of Columbia City High School, Columbia City, Indiana. Our goal is to promote school spirit, loyalty and fellowship among alumni, students, faculty and staff of CCHS through a variety of activities. This site provides a forum for staying in touch with classmates and friends of CCHS.
Ted Gruver (1957), Founder, Past President (2004-2006) & Chairman of the Board (2006-2011)

Greetings--Welcome to the Columbia City High School Alumni Association website. As your president I look forward to sustaining what we have built and to expanding our horizons as an organization. My goal is to continue working with the board of directors to increase scholarship opportunities for our future graduates. Thanks, in advance, for your support of the CCHSAA.
Andrew Thompson (1988), President 2010-2016
---
Coming Soon, a more secure website! As part of a complete website redesign, the Alumni Database will be password protected for the security of our alumni.

All other parts of the CCHSAA website will remain public and not require registration to view.

When the redesign is complete, website visitors will have to register before being able to view the Alumni Database. Registration will be free and will not require membership in CCHS Alumni Association. It will be open to all CCHS & CCJHS graduates and to students who attended but did not graduate there.

Alumni will need an email address to register, either their own or a family member's. This email address will not appear in alumni profiles, which will contain a "Contact" button to send an email.
---
The one & only CCHS Alumni Association website: Ad-free, run by CCHS alumni volunteers and free for all alumni, faculty, staff and friends of our school. This official website can always be reached by using the link in the upper right corner of the CCHS website's home page. Don't be fooled by email invitations from commercial sites -- web addresses ending in .com are commercial.
---
MARK YOUR CALENDAR: 10th annual alumni golf outing will be on Saturday August 27, 2016 at 1:00 p.m. at Eagle Glen golf course in Columbia City. Details to be announced later.
---
Social Luncheon for CCHS alumni and all citizens of Whitley County to be held in Florida on Tuesday, March 7, 2017 at 11:00 a.m. Click here for details.
---
Click here for tips on entering profiles in the Alumni Database.
---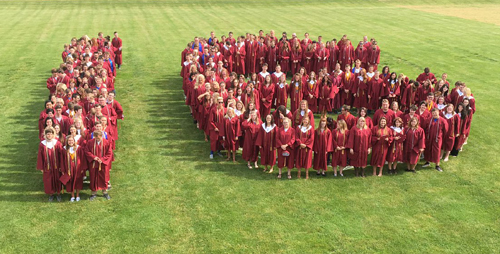 Above L-R: Caitlyn Harris & Bryce Shepherd, CCHS 2016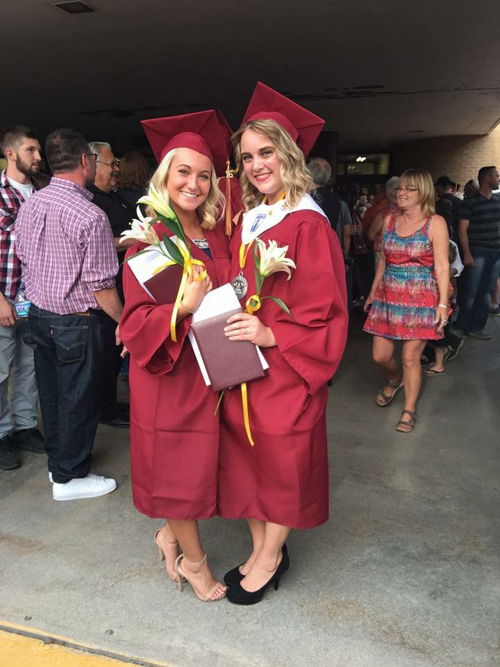 Above L-R: Miranda Eber & Taylor Duncan, CCHS 2016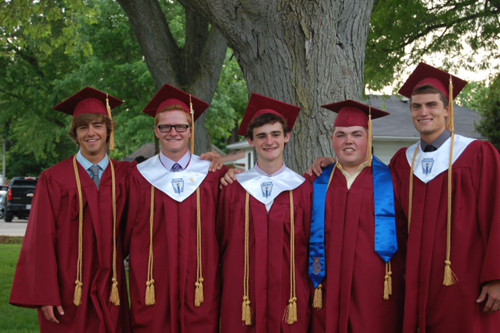 Above L-R: Matt Benedict, Cameron Slavich, Luke Schrader, Drew Lamle & Ryan Mosher, CCHS 2016
---
Winners of 9th Annual CCHSAA Golf Outing

Pictured Left to Right: Winner Randy Smith, CCHSAA President Andrew Thompson, winner Steve Smith. Not present winner Brad Lowe.

Golfers took to the links to raise funds for the Bob Brittain Memorial Scholarships that are given out each spring to graduating seniors. It was held on Saturday, August 29, 2015 at Eagle Glen golf course in Columbia City. Click here for more.
---
2015 Robert Brittain Scholarship Recipients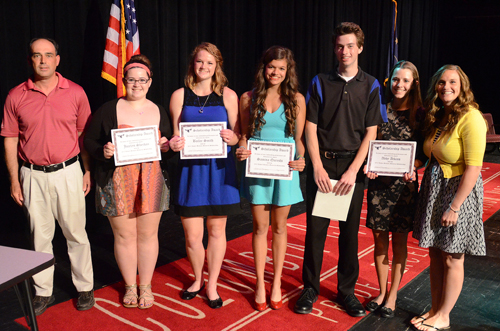 Pictured above: Andrew Thompson. CCHSAA President; Scholarship winners Jocelyn Sherbahn, Bailee Smith, Samina Quereshi, Max Dryer, Abigail Atkins and Sherri Hoppe Sims, CCHSAA Ambassador. Post & Mail photo

The Columbia City High School Alumni Association (CCHSAA) awarded Bob Brittain Memorial scholarships to five CCHS graduating seniors at the Honor Convocation held at CCHS May 11, 2015. Andrew Thompson and Sherri Hoppe Sims represented CCHSAA at the convocation.

The five scholarships were valued at $400.00 each and awarded to Jocelyn Sherbahn, Bailee Smith, Samina Quereshi, Max Dryer and Abigail Atkins.

Kristin Rentschler, Rachelle Patrick, Melanie Bechtold and Andrew Thompson were on the selection committee. CCHSAA congratulates the recipients and wishes them well in their future endeavors.
---
---
© 2005 Columbia City High School Alumni Association This page last updated 08/18/2016