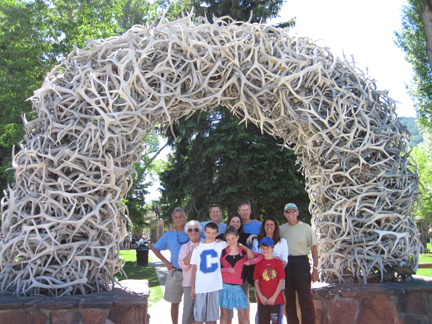 The Woodham family enjoyed a trip to Teton National Park (July 10, 2010, to celebrate 50 years of being a family. On the trip were son Eric, daugher Kathryn Woodham Theobald, husband Jerry T. and son Cooper; daughter Audrey Woodham Raaycroft, husband Ted R. and daughter Ellie & Son Cameron.
We hiked, white water rafted, horse back rode and spent a day fishing on Jackson Lake. We watched old faithful on a trip to Yellowstone park. Other highlights included an evening at the Jackson Hole rodeo, gondola rides to the summit of one of the Tetons and a fun day at the Jackson 4th of Julyl parade followed by spectacular fireworks that evening.
It is a trip that we will remember as a family highlight that was sealed by a 50th dinner sponsored by our children.
Submitted by Reg & Ruth Woodham