The Post & Mail September 20, 2011


Marching again
Band alumni dust off their instruments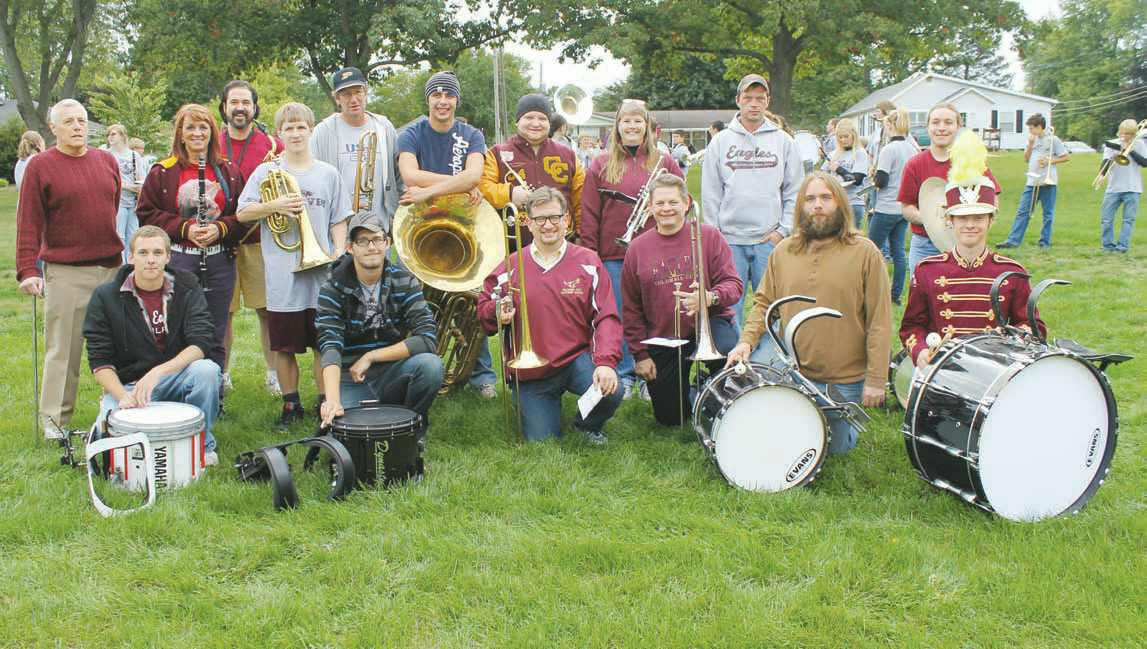 Columbia City High School band alumni paused to have their photo taken, while the CCHS band continued playing behind them. In the front row, left to right, are Tommy Cook, Mike Estep, Greg Hockemeyer, Micah Thomas, Nick Henney and Zach Ruplinger. In back are Jan Miller, Carolyn Hindbaugh, Dan Clifford, Ryan Herendeen, Pat Murphy, Tyler Sheets, Kevin Coverstone, Melanie Gaff, Jeremy Erne and Neil Johnson. Not pictured is Micah Roddy.

By Robin R. Plasterer


It's been Helen Foster's dream to have a band reunion for a long time. Her dream came true on Friday night.

Foster, Columbia City High School's band director, has had the goal of having marching band alumni reunite with current members of the Columbia City High School band for awhile.

"I came here and all the graduates' favorite memories were of band. This has been my goal to get the current band and the alumni together. Tonight it has happened. Maybe we could form a community band with others involved. Let's get together and play music," said Foster at
Friday's CCHS Homecoming.

Seventeen alumni showed up dressed in the familiar maroon and gold and tuned and marched onto the Max Gandy Football Field.

"I've never marched on this field. When I graduated in 1960 we were still marching at DeVol Field. Gandy's field opened in 1962," said Jan Miller, who was the first-ever drum major for CCHS.

"It's weird being back here, but fun. It's strange marching without my hat," he said.

Miller hasn't marched in a parade, let alone a marching band, since the early 1970s. It all came back to him when Foster invited him to direct the Star Spangled Banner.

"That was a blast, but boy are my arms going to hurt tomorrow," said Miller.

Some of the alumni had practiced the music and others just took there instruments out the night before. Some were trying to read their music with their bifocals – even their trifocals.

Greg Hockemeyer, from the CCHS class of 1981, had just recently taken his trombone out of its case.

"It's a little scary – and so much fun," said Hockemeyer. "Thursday night I realized that to read this music with my bifocals is hard. My new trial is to find the right spot on my glasses to read this tiny music. It was much bigger back when I was in school. The school song was handwritten," said Hockemeyer.

Micah Thomas, class of 1984, has been practicing for a week.
"My kids have had so much fun with this. There have been some strange noises coming from the basement. It was me and my trombone. But I have to say this is fun being back here with these students," said Thomas.

Melanie (Herron) Gaff, class of 1981, was a little more polished than the others.

"My children attend DeKalb High School and that band director invites anyone to play in the pep band. That's where I have been practicing," said Gaff.

As she took out her silver trumpet, she gently polished it with a baby blanket, the same one she used while in high school. She too had to adjust her glasses to see the "tiny" music.

But that is not the case with Pat Murphy, class of 1974, and Nick Henney, class of 1998. They played the songs without any music. Murphy played his trombone while Henney played the drums.

Other alumni playing and marching with the band were Zach Ruplinger, '08; Neil Johnson, '10, Dan Clifford, '91, Carolyn (Clifford) Hindbaugh, '76; Kevin Coverstone, '04; Tommy Cook and Mike Estep, both of '10; Ryan Herendeen and Tyler Sheets, both of '11; Jeremy Erne, '93; and Micah Roddy, '98.

The music played on at CCHS on Friday night. Once a marching band member … always a marching band member.