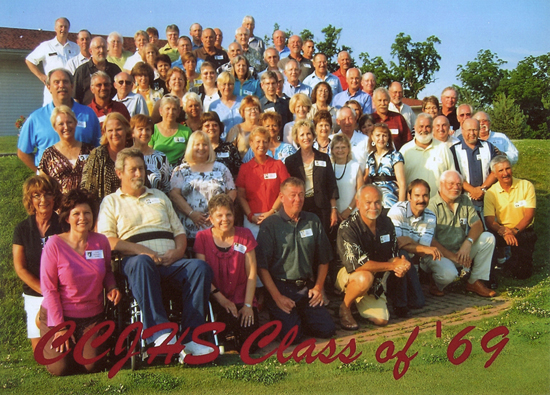 The class of 1969 started their 40th reunion with a wiener roast at the home of Gloria and Steve More on Friday evening, June 26, 2009. Over 40 people were in attendance. On Saturday morning, June 27th, 7 teams of golfers played a Florida scramble at the Crooked Lake Golf Course. Scores ranged from 2 under to 3 over.
On Saturday evening at the Eagle's Nest Event Center, nearly 80 classmates plus spouses and friends totaling nearly 130 people in all, attended the main event. Classmates from near and far reunited and shared hugs, laughs, and stories from high school and their life stories since. There was even a special surprise for all when two special visitors attended. Coach Don Armstrong and his wife Rosalie, two of the class sponsors, joined in the evening's festivities.
A memorial with pictures and candles for those who have passed was viewed by all. A class picture was taken. A reunion booklet with history, trivia, fun facts, stories and classmates names was distributed.
The 2009 reunion committee members wish to say thanks to all who attended. It was a glorious and perfect weekend for all.