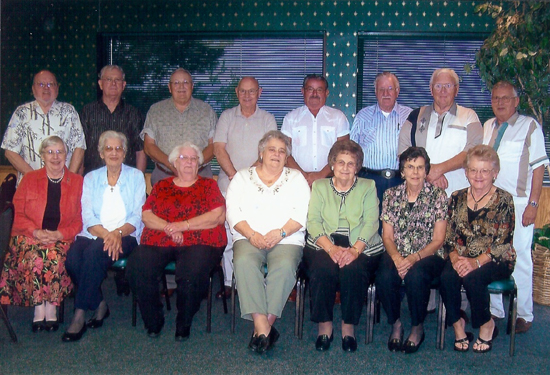 1st Row L-R: Ruth Ann Pontzius, Sharon Cole, Marilyn Shoda, Phyliss Van Deman, Viola Burns, Ann White and Ardith Jagger

2nd Row L-R: Jim Neill, Russel Wolfe, Robert Dunn, Ronnie Egolf, Max Cox, Mike Loe, Richard Wolfe and Graham Kleespie
The Class of 1954 celebrated 55 years since graduation with a class reunion on Friday, August 22, 2009 at Eagle's Nest Event Center in Columbia City.
The 2009 reunion committee members wish to say thanks to all who attended. To those of you who were absent, we wish you could have been there.