Columbia City High School
Alumni Association
600 N. Whitley St.
Columbia City, Indiana 46725


(260) 244-6136
---
Welcome!
Welcome to the Columbia City High School Alumni Association web site. This site is for all alumni of Columbia City High School, Columbia City, Indiana. Our goal is to promote school spirit, loyalty and fellowship among alumni, students, faculty and staff of CCHS through a variety of activities. This site provides a forum for staying in touch with classmates and friends of CCHS.
Ted Gruver (1957), Founder, Past President (2004-2006) & Chairman of the Board (2006-2011)

Greetings--Welcome to the Columbia City High School Alumni Association website. As your president I look forward to sustaining what we have built and to expanding our horizons as an organization. My goal is to continue working with the board of directors to increase scholarship opportunities for our future graduates. Thanks, in advance, for your support of the CCHSAA.
Andrew Thompson (1988), President 2010-2016
---
Coming Soon, a more secure website! As part of a complete website redesign, the Alumni Database will be password protected for the security of our alumni.

All other parts of the CCHSAA website will remain public and not require registration to view.

When the redesign is complete, website visitors will have to register before being able to view the Alumni Database. Registration will be free and will not require membership in CCHS Alumni Association. It will be open to all CCHS & CCJHS graduates and to students who attended but did not graduate there.

Alumni will need an email address to register, either their own or a family member's. This email address will not appear in alumni profiles, which will contain a "Contact" button to send an email.
---
The one & only CCHS Alumni Association website: Ad-free, run by CCHS alumni volunteers and free for all alumni, faculty, staff and friends of our school. This official website can always be reached by using the link in the upper right corner of the CCHS website's home page. Don't be fooled by email invitations from commercial sites -- web addresses ending in .com are commercial.
---
Social Luncheon for CCHS alumni and all citizens of Whitley County to be held in Florida on Tuesday, March 6, 2018 at 11:00 a.m. Click here for details.
---
Click here for tips on entering profiles in the Alumni Database.
---
1966 Football Team Reunites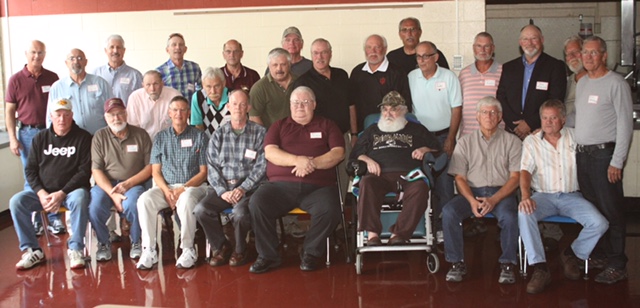 Above, front row L to R: Mike McCoy, Bill McKown, Gary Smith, Dick Buchanan, and Ed Heintzelman.

Standing L to R: Kerry Wright, Tim Cook, Chuck Thomson, Steve Barnum, Todd Grigsby, Bob Bowsman, Bruce Sheley, Dale LeFever, Jim Chapman, John Stockwell, Bill Ballard, Gary Brandon, Doug Kneller, Gary Egolf, and Coach Don Armstrong.
Columbia City High School's 1966 football team ­— the last undefeated grid squad in CC history — reunited Friday evening, October 7, 2016 before, during and after the Columbia City-Leo game at CCHS Max Gandy Athletic Field.

Team members, classmates and the community at large participated in a "meet and greet" event starting at 5:30 p.m. in the CCHS cafeteria. After the meet-and-greet session, all were seated for the 7 p.m. kick-off between the Eagles and Lions.

There was also a post-game social time at the Columbia City Elks Lodge, 109 S. Main St., in Downtown Columbia City.
---
2016 Robert Brittain Scholarship Recipients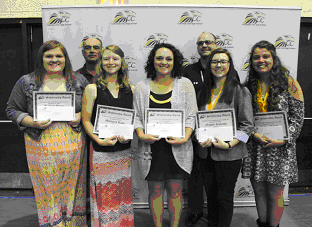 Above left to right first row: Scholarship winners Bridget Hinen, Macenzie Lane, Katie Weigel, Natalie Roberts and Taylor Daniel. Back row : Andrew Thompson, President CCHS Alumni Association and Chris Bechtold.
Columbia City High School Alumni Association (CCHSAA) awarded Bob Brittain Memorial scholarships to five CCHS graduating seniors at the Honor Convocation held at CCHS May 11, 2016. Andrew Thompson and Chris Bechtold represented CCHSAA at the convocation.

The five scholarships were valued at $500.00 each and were awarded to Taylor Daniel, Macenzie Lane, Katie Weigel, Natalie Roberts and Bridget Hinen
Kristin Rentschler, Rachelle Patrick, Chris Bechtold and Andrew Thompson were on the selection committee. CCHSAA congratulates the recipients and wishes them well in their future endeavors.
---
New CCHS Alumni 2016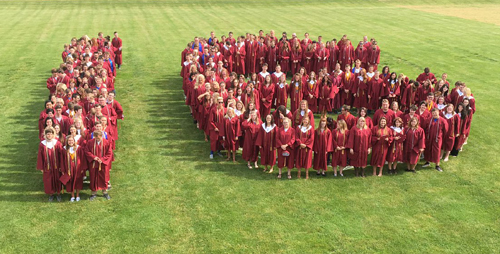 Above L-R: Caitlin Harris & Bryce Shepherd, CCHS 2016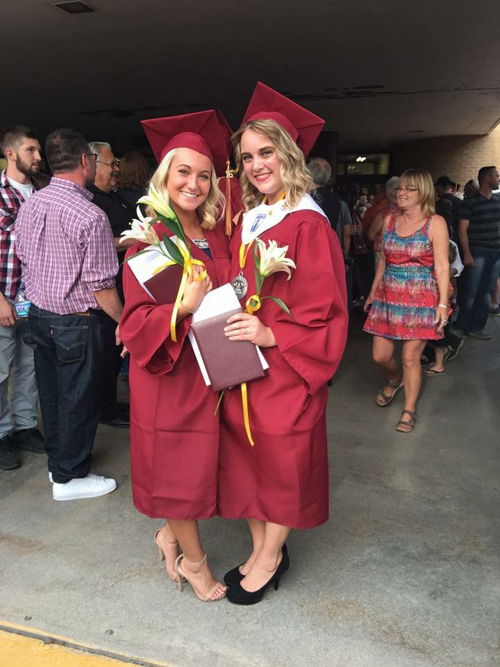 Above L-R: Miranda Eber & Taylor Duncan, CCHS 2016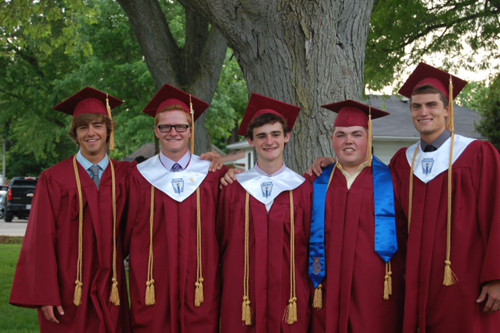 Above L-R: Matt Benedict, Cameron Slavich, Luke Schrader, Drew Lamle & Ryan Mosier, CCHS 2016
---
---
© 2005 Columbia City High School Alumni Association This page last updated 03/27/2017